Fundraising
The thought of fundraising for some people can be difficult because of the fear of being 'asked the question'.  There is no need for you to disclose if someone is curious.  You could be doing this for a 'good friend' who wishes to remain anonymous.
You Can Set Up a Fundraising Page with Give As You Live
By clicking on the Give As You Live button below you can easily start your fundraising project and the funds will go directly to us.  However, if you wish to organise a fundraising event on your own please let us know by emailing us at: helpme@cisters.org.uk


Fundraising Ideas!
Fundraisers Rosie & Jude - Ambulance Service Workers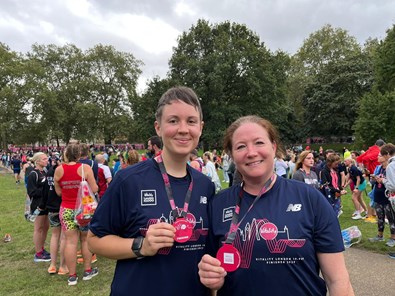 Jude and Rosie raised a total of £680 for us!  (This excludes Gift Aid which will raise even more money for CIS'ters). They have done so well to fundraise for us by running the 10k event in London on 24th September 2023. Thank you both, we are very grateful.  Also, thank you to everyone for the money donated.
CAN YOU HELP US IN 2024? -  We have a total of eight places at the Vitality 10k event to be held again in London on 22nd September 2024. Contact us via 

 

helpme@cisters.org.uk  if you would like to know how to apply for one of our eight places.
♥ ♥ ♥ ♥
Car Wash!       
Car Washes are a fun way to raise money.  You'll need to find a high-trafficked location with water available, plus a lot of room for lining up the cars, and washing, drying stations.   Be sure to blast your car wash details on social media and ask your friends to share on theirs. You could dress up in costumes, super hero costumes are popular.
Karaoke!            Hold a Fun Crazy Night Event.
Bake Sale!    
Who can resist a Bake Sale.  You and your team can bake.  Also, query your committee or team to ask local bakers if they will donate lovely sugary confections.  Tell everyone and be sure to remind them if they don't want cupcakes, they can donate money to your cause.  Don't forget to tell friends and family.