Artwork
With artwork we can be inspired to express our emotions in many different ways.
Masks (created out of paper mache).
Modelling (using clay and play dough etc); and many other ways of working with expression and to demonstrate growth.
Sketching/Drawing/Painting
Each is individual and each has a message of hope, despair, of a journey.
One of our Members (Louise 615) told us about the challenge set out below:
Getty Artworks Recreated with Household Items by Creative Geniuses the World Over

Irises, 1889, Vincent Van Gogh. Oil on canvas, 29 1/4 × 37 1/8 in.
Re-create your favourite art using just three objects lying around home.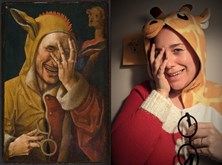 Laughing Fool, ca. 1500, attributed to Jacob Cornelisz van Oostsanen. Oil on panel, 13 7/8 in. x 9 1/8 in
The only tools you need for this activity are your imagination and a picture of a work of art you like or find interesting. Browse the online Getty Museum collection and the National Gallery, London.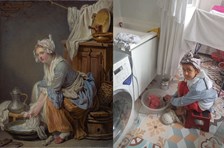 The Laundress (La Blanchisseuse), 1761, Jean-Baptiste Greuze. Oil on canvas, 16 x 13 in.
Many museums have great online collections with images available to download and use for free: try LACMA, The Met, Cleveland, Indianapolis, the Art Institute of Chicago, the Walters, or the National Gallery.  These are the American museums, check out the ones in the UK as well.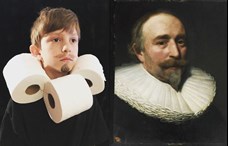 And of course, you could try a Google Image search for "painting [keyword]," "sculpture [keyword]," or whatever else you like. You might even try a reverse image search: upload an image of yourself or your object to Google Search and see what it thinks it looks like. (It's often way off, but let that be part of the fun.)